---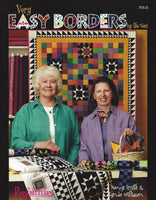 Sale
Very Easy Borders by the Yard
Sale price $5.00 Regular price $9.95
Borders & More is preprinted border yardage that can be used to decorate just about anything! Use it for quilt borders, sashing and blocks. Add borders to purchased bedding such as sheets, pillowcases, and dust ruffles. Add border elements to throw pillows, wall hangings, valances, place mats and tote bags.
Authors: Nancy Smith & Lynda Milligan
Publisher: Possibilities
Publication Date: 2002
Cover: Paperback
Pages: 16
Condition: Like new. Pre-owned.