---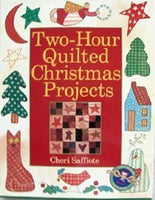 Sale
Two-Hour Quilted Christmas Projects
Sale price $7.50 Regular price $14.95
There are more than 40 projects in this book featuring homespun sayings intended to warm and inspire. You will find: Variety of projects including a keep your heart merry pillow; a snowman stocking ornament; a framed raggedy angel; and a patchwork Christmas quilt.
Illustrated instructions covering each type of quilted projects and a variety of stitches. Stitches include: appliqué, blanket, button-hole, cross, French knots, herringbone, lazy daisy, satin, stem and straight. Full color photos patterns. Projects include: gingerbread man ornament, angel box, Meowy Christmas pillow, patchwork Christmas quilt, house in the woods table runner Snowman stocking ornament, Framed Raggedy angel, Keep your heart merry pillow, Rejoice quilt.
Author: Cheri Saffiote
Publisher: Sterling Publishing Co.
Publication Date: 1997
Cover: Paperback
Pages: 128
Condition: Like new, pre-owned.