---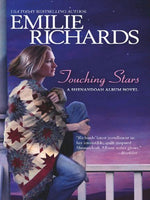 Sale
Touching Stars
Sale price $12.50 Regular price $24.95
A novel by Emilie Richards.
Gayle Fortman has built a good life for herself and her three sons in the Shenandoah Valley of Virginia. Divorced from charismatic broadcast journalist Ericc Fortman, Gayle has made a success of Daughter of the Stars, a populard bed and breakfast. She has even maintained a cordial relationship with Eric, covering with the boys for his absences and broken promises. Family was never a priority for her ex-husband, even when they were still married. Luckily, Travis Allen, her closest neighbor, has been a loving surrogate father to the boys and her own best friend.
Then, on the eve of oldest son Jared's graduation, Eric returns, but not for the celebration. He nearly lost his life in Afghanistan. Worse, he has lost his way and his courage, and needs a place to recover. Gayle realizes this might be the last chance for her sons to establish a real bond with their father, and offers him a summer at the inn and a chance to put things right. Gayle and Eric are all too aware that the love and attraction they once shared are still there. But can the pieces of their broken lives be mended, or are they better laid to rest?
Authors: Emilie Richards
Publisher: MIRA Books
Publishing Date: 2007
Cover: Hardback
Pages: 521
Condition: Like new. Pre-owned.