---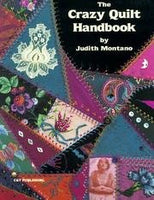 Sale
The Crazy Quilt Handbook
Sale price $8.00 Regular price $15.95
Create your own crazy qult heirlooms with Judith Montano's contemporary methods. This classic Victorian look is easy to achieve with her tips on techniques, design and contemporary applications. Detailed instructions on stitches and a wide variety of decorative details make it fun to sew quilts, wall hangings, pendants and unique garments - more than 50 stunning examples are pictured in beautiful color. Complete patterns and instructions are included for 10 easy-to-make projects.
Author: Judith Montano
Publisher: EC & T Publishing
Publication Date: 1986
Cover: Paperback
Pages: 80
Condition: Like new. Pre-owned.