---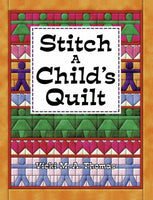 Sale
Stitch a Child's Quilt
Sale price $9.50 Regular price $18.95
Mamas, grandmas, aunts - now you can make a special quilt for that treasured little one in your life. Professional designer Vicki Thomas has created 11 charming quilts for your favorite kids. Several are interactive. They contain flaps, closed with button or bows, that conceal secret pictures and messages and provide hours of fun and entertainment. Vicki says she created these designs from her observations of things children find fascinating, such as airplanes, butterflies, hot-air balloons, tepees, kites, tea parties, and paper dolls. The patterns range from simple for the beginning quilter to challenging for the accomplished sewer. The easy quilts are so marked, and the complete step-by-step directions and illustrations are easy to follow.
Authors: Vicki M. A. Thomas
Publisher: American Quilter's Society
Publication Date: 1999
Cover: Paperback
Pages: 112
Condition: Like-new, pre-owned.