---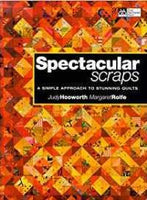 Sale
Spectacular Scraps
Sale price $11.00 Regular price $22.95
Discover an innovative approach to creating fantastic scrap quilts, using one simple four patch block made up of half-square triangles. Any fabric scraps will do--even those "ugly" fabrics at the bottom of the scrap pile! Create an infinite variety of original quilt designs with this easy, practical technique. Learn how to use scraps in a whole new way with:
· 15 step-by-step quilt projects, plus more than 30 full-color photographs of completed scrap quilts for inspiration
· Methods for using two color families, instead of just light and dark fabrics, to add a new dimension to traditional scrap quilts
· Tips for repeating, reversing, and rotating blocks for countless design possibilities
Authors: Judy Hooworth and Margaret Rolfe
Publisher: That Patchwork Place
Publishing Date: 1999
Cover: Paperback
Pages: 80
Condition: Excellent. Pre-owned.