---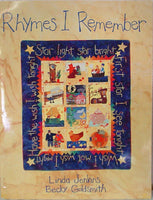 Sale
Rhymes I Remember
Sale price $10.00 Regular price $19.95
We all remember rhymes and stories that we heard as children. If you are like us, you may only remember bits and pieces of those rhymes and stories! Most of the rhymes that we remember from childhod are accompanied by a very colorful mental picture.
While this quilt is designed to be appealing to children, it is also designed to appeal to the child in each of us, regardless of our chronological age. It is a fun quilt to make. You should take this opportunity to choose colors and fabrics that you might not normally use. You are actually illustrating the rhymes that you remember, and you can color your blocks any way you like!
Authors: Becky Goldsmith and Linda Jenkins

Publisher: Piece O' Cake

Publication Year: 1995

Cover: Paperback

Pages: 45

Condition: Excellent, Pre-owned.