---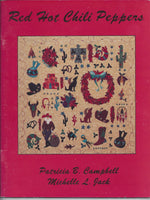 Sale
Red Hot Chili Peppers
Sale price $10.00 Regular price $20.00
Pat was told by her friend, Dorothy Sanders, a Native Texan, that she must stand on Texas soil before going to her grave. Pat thought her remark brazenly biased. Wat could possibly be so grand about Texas or any of the Southwest for that matter? Texas is an attitude, a "state of mind," not just a place.
Cowboy boots and hats, rodeos, red hot chili, tortilla soup, red beans, cornbread, cactus and armadillows. A profusion of wildflowers in the Spring, steamy hot summers, miles and miles of splendid "nothingnes" adjacent to city skyscrapers. Texas, New Mexico and Arizona are an "Oila Padrida" (stew pot) of ethnic culture, a tast of Old Mexico and Native Americans. Sandy beaches, serene lakes, towering mountains, eeire ghost towns, ranches, longhorns, oilwells, cold desert nights and breathtaking sunsets. Journey with us to a Pueblo in New Mexico, enjoy a sunset over the snow-capped mountains of Arizona. Whether you live in Colorado, Michigan, New York or Florida, taste the "country" of Texas, get that "Southwest feeling."
Features full-size patterns.
Authors: Patricia B. Campbell & Michele L. Jack
Publisher: Texas Stars
Publication Date:1994
Cover: Paperback
Pages: 45
Condition: Excellent. OUT OF PRINT - Autographed by Pat Campbell. Pre-owned.