---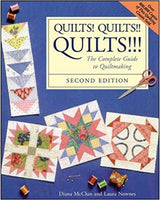 Sale
Quilts! Quilts! Quilts! 2nd Edition
Sale price $12.50 Regular price $24.95
Based on the principle that a solid foundation turns beginners into lifelong quiltmakers, Quilts! Quilts!! Quilts!!! covers every tool, every technique, every stitch, every tip, and every shortcut in machine and hand quilting--no matter how basic. An all-time classic on quilting, it is the essential handbook for the beginner and a constant companion for the experienced quilter. This new, updated edition includes all of the features quilters loved from the first edition plus so much more! New features include: - More than 30 gorgeous designs to choose from, including 10 all-new quilt patterns - All-new photography of quilts in home settings - All-new color diagrams to lead quilters step-by-step through each pattern - Eight sampler quilts with complete instructions and patterns for 27 different blocks - Expanded coverage of color choices in quilts - Metric (centimeters) measurements - A glossary and index for easy reference Diana McClun and Laura Nownes have taught thousands of beginning quilters through classes, workshops, seminars, and nationwide television. Their book has inspired quilters all over the world and given them a passion for quilting that lasts a lifetime.
Authors: Diana McClun and Laura Nownes
Publisher: The Quilt Digest Press
Publishing Date: 1997
Cover: Paperback
Pages: 172
Condtion: Like-New. Pre-owned.