---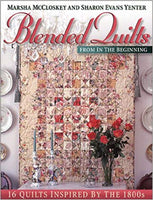 Sale
Blended Quilts from in the Beginning
Sale price $15.00 Regular price $29.95
Blended Quilts explains the concept of letting the fabric do the work and offers color and design guidelines to make your own version of these modern-day project quilts.
16 quilts patterns designed for quick and easy piecing
Two full-color photographs of each project quilt, including a flat shot of the entire quilt and a decorator shot showing the quilt in a beautiful setting
Easy to follow instructions appropriate for beginning to exprerienced quiltmakers
Color illustrations to aid in construction of each quilt
A historical perspective of quilts from the 1800s
A Section on basic quiltmaking that provides a complete overview of quiltmaking steps from rotary cutting to binding
An introduction to the historic Gaches Mansion in LaConner, Washington, in which many of the photographs were taken
Authors : Marsh McCloskey and Sharon Evans Yenter
Publisher: Sea-Hill Press Inc.
Publication Date: 2002
Cover: Paperback
Pages: 132
Condition: Excellent, like new. Previously owned.