---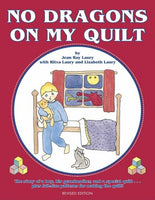 No Dragons on my Quilt
A delightful storybook about a little boy who believes in dragons. His grandmother makes him a special quilt so he can finally sleep. Whimsical watercolor drawings and quilt instructions with full size applique patterns are included. REVIEW: A reader from Frederick, MD says, "I read 'No Dragons On My Quilt' to my daughter about 12 years ago after borrowing it from a library. Of course we ordered our very own copy. Back then we got it in hardback. Our whole family loves the book so much that we tried to order an extra copy for my son a few years ago. We wanted copies for each child to be passed down to their own kids when they were grown. (It's that kind of book.)" Collectible.
Author: Jean Ray Laury with Ritva Laury and Lizabeth Laury
Publisher: American Quilter's Society
Publication Date: 1990
Cover: Hardback
Pages: 52
Condition: Like new. Pre-owned.