---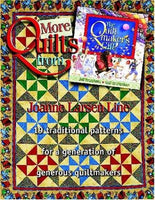 Sale
More Quilts from the Quiltmaker's Gift
Sale price $13.50 Regular price $26.95
An instructional book that brings the spirit of joy and generosity of THE QUILTMAKER'S GIFT alive for both new and seasoned quilters.

Gail de Marcken, illustrator of the award-winning bestseller THE QUILTMAKER'S GIFT, used thirty-nine beautiful quilt patterns to decorate the story, celebrating not only generosity of spirit, but also the joy of quiltmaking. QUILTS FROM THE QUILTMAKER'S GIFT included instructions for twenty of the patterns for both novice and seasoned quilters. MORE QUILTS FROM THE QUILTMAKER'S GIFT provides instructions for the final nineteen quilts.
Author: Joanne Larsen Line
Publisher: Scholastic
Publishing Date: 2003
Cover: Paperback
Pages: 144
Condition:  Pre-owned.