---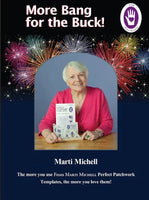 Sale
More Bang for the Buck!
Sale price $6.00 Regular price $11.95
More Bang for the Buck! is our new "Template ABCs" book. One of the best features on the book is a set of strip charts for 18 sets of our templates that make square blocks. If you own Set A, B, C, D, E, Strippers, Set L, M, N, O, P Q, R, S, T, Storm at Sea Diamond Template Set and/or the From Marti Michell Flying Geese Ruler, More Bang for the Buck! will help you get more bang for your bucks! Inside this book, you will learn -
• More ways to use Perfect Patchwork Templates
• Ways to convert ruler-cutting instructions to template cutting
• Rotary cutting tips – More specifically, template rotary cutting tips!
• Why and how to cut strips the Marti Way
• Ways to teach your templates magic tricks for cutting shapes that have no template
• Tips for cutting connector blocks
• Why you want to be a Grainline Geek!
• Why 1.414 is a quilter's favorite number
• How to calculate fabric requirements – or just use the Strip Yield Charts!
• To make Four Patches the Marti Way –It's faster than strips!
• To use the versatile Patchwork Trio in hundreds of block designs
• Why Square Within a Square units are so easy and accurate with templates
• And practice new techniques making the Toad in a Puddle quilt shown on the back cover
Author Marti Michell
Publisher: Michell Marketing
Publication Year: 2015
Cover: Paperback
Pages: 48
Condition: Like New. Pre-owned.