---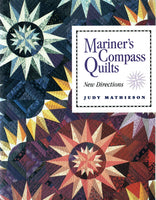 Sale
Mariner's Compass Quilts: New Directions
Sale price $15.00 Regular price $29.95
In her second book on Mariner's Compass quilts, Judy shares even more stunning examples and projects based on this very popular quilt pattern. The images are inspired by sixteenth century cartographer's colorful compass roses designed for early sailing charts. Judy gives 111 full-size patterns for traditional 16- or 32-point compasses as well as designs based on the sparkling six-spoked wheels of Costa Rican carts and dramatic off-center compasses.
Author: Judy Mahieson
Publisher: C & T Publishing
Publishing Date: 1995
Cover: Paperback
Pages: 96
Condition: Like-new.  Pre-owned.