---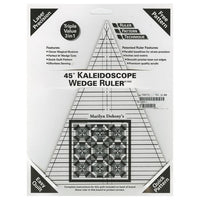 Sale
Marilyn Doheny's 45 DEG Kaleidoscope Wedge Ruler
Sale price $13.50 Regular price $18.95
Kaleidoscope illusions have never been easier! Simply cutting and sewing straight lines produces dramatic effects. Complete instructions provided with each ruler. Matching graph paper lets you experiment with different patterns and shading before cutting your fabric! Features: Clever Magical Illusions Perfect 45 degree Wedge Cuts Quick Quilt Pattern Effortless Sewing Patented Ruler Features: Parallel baselines for strata precision Inches and metric Smooth precise laser-cut edges Premium quality acrylic.
The 45 Degree Ruler called the KWR comes in an instruction board featuring the overlapping illusion pattern featured on the instruction board – which comes with ruler purchase….Together they  create the illusion of over lapping circles from simple straight line strata sewing – then using the ruler to cut "equal opposite" WEDGES.
If you would like to use the 45-degree KWR to make a mosaic quilt of infinite design…then order the graph paper and design away – all is simple to do.  The results are spectacular!