---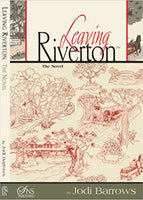 Sale
Leaving Riverton - The Novel
Sale price $6.50 Regular price $12.95
It is 1856 in the small Louisiana town of Lecompte. The political unrest before the Civil War causes one family to consider moving West. Lucas Mailly, a timber mill proprietor, is one of them. He decides he must sell the family timber mill before it is too late and move West with his four granddaughters.
Elizabeth Bromont, the eldest of the granddaughters, doesn't want to disappoint her grandfather. Liz is faces with a tough decision that she knows will affect her and those closest. Before they can reach Texas, she must gather all of her courage in order to keep the group together. Liz, along with her sister, Megan, and two cousins, venture toward the Trinity River. These women must learn to do without any male strength and influence as they tackle the adventures and trials of the wagon trail.
Jodi Barrows pieces her love of quilting and the American West into this novel like a fine patchwork quilt. Each character has a quilt stitched into the story uniquely for them. Jodi has drawn from her own family's history to create a story founded in many truths. You will fall in love with the women of Riverton.
Author: Jodi Barrows
Publisher: SNS Publishing
Publication Date: 2005
Cover: Paperback
Pages: 172
Condition: Like new. Pre-owned.