---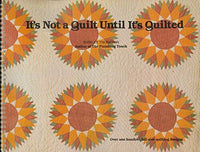 It's Not a Quilt Until It's Quilted
RARE Out of Print - It's Not A Quilt Until It's Quilted is a comprehensive collection of over one hundred full size, easy to trace, original and traditional quilt designs that will appeal to beginning and experienced quilters alike. Included are designs for blocks ranging from three inches to ten inches in size, lattice and boarder designs from two inches to seven inches in size. These designs are suitable for pillows, wall hangings, crib quilts, full size quilts or any item that would be enhanced with quilting. The fundamentals of quilting are introduced along with equipment needed, directions for marking, basting and the execution of the quilting stitch. Regardless of your project, large or small there is a design here for you.
Author: Shirley Thompson

Publisher: Powell Publications
Publishing Date: 1984
Cover: Spiral-bound Paperback
Pages: 64
Condition: Excellent. Pre-owned. Some minor scratches on the cover.