---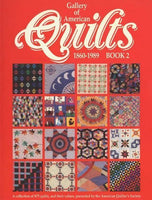 Sale
Gallery of American Quilts Book 2 1860-1989
Sale price $10.00 Regular price $19.95
The Gallery of American Quilts Book 2 1860-1989 is a beautiful, full-color presentation of 875 quilts which were offered for sale by members of the American Quilter's Society in 1988 and 1989. This book is a sequel to the popular Galler of American Quilts 1849-1988. 
This volume will help you develop new ideas, Tumbing through page after page of full-color examples will add to your knowledge of quilting and be useful in future projects. Even the advanced or professional quilter will find a color combination, border treatment or style that inspires her.
This book is a valuable price guide for both antique and modern quilts. Since all the the quilts shown were recently for sale, it is probably the best indicator of true value on the quilt market.
Gallery of American Quilts Book 2 1860-1989 is also a bridge through time. The quilts shown date from the middle of the 19th Century throught the 1980's. See the changes that have taken place - and study the trends in technique, color, materials and patterns.
Editor: American Quilter's Society
Publisher: American Quilter's Society
Publishing Date: 1990
Cover: Paperback
Pages: 128
Condition: Excellent.  Pre-owned.  Slight wear on spine.