---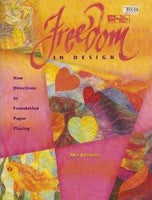 Sale
Freedom in Design
Sale price $12.50 Regular price $24.95
Learn new applications for freezer-paper foundation piecing so you can easily piece curves and polygons to create innovative, one-of-a-kind quilts.
Practice the techniques on seven quilt projects as you solve various design challenges.
Sketch and enlarge your original designs, draft patterns and create a full-sized working "cartoon."
Gather inspiration from 22 stunning quilts.
Apply these new piecing methods when drafting traditional quilt patterns and see how easily the complex angles and polygons go together.
Author: Mia Rozmyn
Publisher: That Patchwork Place
Publishing Date: 1995
Cover: Paperback
Pages: 112
Condition: Like New. Pre-owned. Label over previous owner's name on inside cover.