---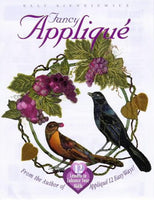 Fancy Applique
RARE Out of Print - Each exercise in this excellent instructional book encourages playful exploration that will broaden any needleworker's stitching horizons. The twelve sequential lessons provide for two unique Fancy Sampler Quilts that contain fifty different blocks. All techniques needed to replicate them are shown and explained, including cutaway and reverse cutaway appliqu, needleturn, nondecorative stitches, stumpwork, scenery blocks, and state-of-the-art methods for making perfect points, inside corners, and smooth curves.
Elly Sienkiewicz is a quiltmaker, teacher, and the author of Baltimore Beauties and Beyond and many other best-selling crafts books. She lives in Washington, D.C.
Author: Elly Sienkiewicz

Publisher: C & T Publishing
Publishing Date: 1999, First Edition First Printing
Cover: Paperback
Pages: 144
Condition: Excellent. Pre-owned.