---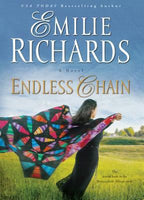 Sale
Endless Chain
Sale price $10.00 Regular price $19.99
A novel by Emilie Richards.
Sam Kinkade is finally feeling at home as a minister in rural Toms Brook, Virginia, reasonable content with hisl life and Shenandoah Valley congregation. But his plans to welcome the area's growing Hispanic community to the church are suddenly met with resistance. Fortunately, when La Casa Amarilla, the church-run community center, is threatened, a stranger named Elisa Martinez walks through his door and Sam realizes he has found a woman capable of building bridges.
Author: Emilie Richards
Publisher: MIRA Books
Publishing Date: 2005
Cover: Hardback
Pages: 462
Condition: Like new. Pre-owned.