---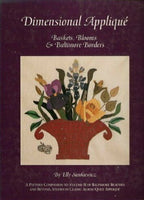 Dimensional Appliqué: Baskets, Blooms & Baltimore Borders
RARE Out of print - A pattern companion to Volume II of Baltimore Beauties and Beyond, Studies in Classic Album Quilt Appliqué. Quick Victorian cushions, an heirloom quilt, or fresh floral jewels easy enough to craft with young friends and family? Beautiful projects, clear instructions, a wealth of illustrations, and a workbook approach ensure your success in Dimensional Appliqué.
Here's why:
Simple, innovative methods for dimensional flowers and unique appliqué basketry

Easy-to-follow, step-by-step instructions

Ten sequential teach-yourself lessons

Templates, supply lists and cutting instructions

50+ clear, ready-to-use patterns for blocks and borders, blooms and baskets

Almost 3 dozen album quilt block patterns

five album border patterns and one medallion center
Author: Elly Sienkiewicz

Publisher: C & T Publishing
Publishing Date: 1993, First Edition
Cover: Paperback
Pages: 176
Condition: Excellent. Pre-owned. Some wear olong spine.