---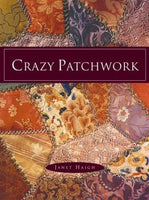 Sale
Crazy Patchwork
Sale price $12.50 Regular price $24.95
From pillows and throws to memory book covers and lampshades, Crazy Patchwork takes the theme of traditional crazy quilts and applies its principles to a whole range of ideas for gifts and for the home. Includes all the information a crafter needs to make exciting crazy quilt projects...in no time! All 20 projects can be easily machine-pieced or machine-embroidered and all use a range of brilliant colors, Many of the projects can be completed in just hours!
Author: Janet Haigh
Publisher: Contemporary Books
Publication Date: 1998
Cover: Paperback
Pages: 128
Condition: Like new, pre-owned.