---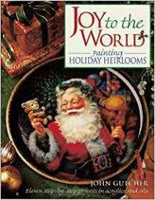 Sale
Joy to the World Painting Holiday Heirlooms
Sale price $11.00 Regular price $24.99
With these nine step-by-step projects from renowned decorative painter John Gutcher, readers will learn how to paint their favorite Christmas themes, including Santas, angels, elves and more, on everything from glittering ornaments to festive albums.
Giving them the flexibility to paint in either acrylics or oils, John provides plenty of practical guidance for choosing supplies, mixing colors, creaPting values, and mastering the basics of portrait painting. He even makes learning those tricky details simple with special tips for painting fur, richly textured clothing and realistic flesh tones.
* Holiday themes are extremely popular among decorative painters
* Includes 9 fun, fabulous step-by-step projects
* Perfect for holiday gifts!
* Includes detailed instruction in the basics of portraiture
Author: John Gutcher
Publisher: North Light Books
Publishing Date: 2001
Cover: Paperback
Pages: 128
Condition: Excellent. Pre-owned. Very minor wear on cover edges.