---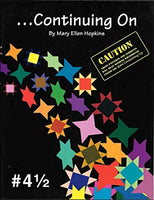 Sale
Continuing On #4 1/2
Sale price $10.00 Regular price $19.95
This book features new ways of piecing triangles for quilting. The author will show you a new way of piecing those little right triangles & how those little points are kept nice & sharp. Connector blocks separate main design blocks, open up a design, & connect the design blocks together. In this book you will see several examples of connector blocks, including different applications of the connector block construction technique. You will see the general technique of constructing connectors & each design shows a breakdown of blocks. These pages and their comments will not make much sense unless you have mastered Connecting Up #4.
Author: Mary Ellen Hopkins (signed copy)
Publisher: ME Publications
Publishing Date: 1991
Cover: Paperback
Pages: 32
Condition: Like-new. Pre-owned.