---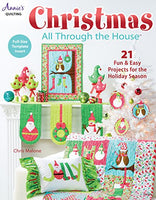 Sale
Christmas All Through the House
Sale price $7.50 Regular price $14.99
Create a quilted special holiday look in every room in the house. Put a little bit of holiday magic in every room. This collection of holiday whimsey is just what every quilter is looking for. Quick & Easy projects perfect for the home or gifts. Make the next Christmas season a quilted one! Tutorials include: Raw-Edge Fusible Applique Making YoYos.
Author: Chris Malone
Publisher Annie's
Publication Date: 2015
Pages: 48
Condition: Pre-owned. Like new.