---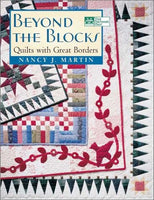 Sale
Beyond the Blocks
Sale price $14.00 Regular price $27.95
Move beyond basic borders and so-so settings and stitch up quilts that sparkle! Bestselling author Nancy J. Martin shares her inspiring tips for putting the perfect finishing touches on your next quilt.
Choose from 18 gorgeous quilts featuring patchwork, appliqué, and strippy borders.

Create smashing settings with classic blocks such as Log Cabin, Courthouse Steps, and 54-40 or Fight.

Have a collection of purchased, found, or inherited blocks? Use these fresh ideas to finish them with flair!
Jam-packed with imaginative ways to set and border your quilt blocks!
Author: Nancy J. Martin

Publisher: That Patchwork Place
Publication Date: 2002
Pages: 112
Condition: Pre-owned. Like new.