---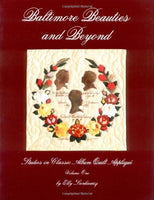 Baltimore Beauties and Beyond: Studies in Classic Album Quilt Applique Volume One
RARE Out of Print - Unquestionably the most comprehensive book on how to do hand applique in print, Baltimore Beauties and Beyond: Studies in Classic Album Quilt Applique is clearly and copiously illustrated, and sparkles with 16 pages of color. Elly's patterns for making 29 blocks lead from beginner simplicity to complex classic applique. Basic details of perfect points, corners, curves, and invisible stitches lead the reader through Victorian fancywork like ruching, then right up to the modern ease of applique with the "freezer paper on top" method. Baltimore Beauties and Beyond is surely a needlework classic.
Author: Elly Sienkiewicz

Publisher: C & T Publishing
Publishing Date: 1989, First Edition First Printing
Cover: Paperback
Pages: 176
Condition: Excellent. Pre-owned. Some wear along the spine and edges. Label over name inside first page.