---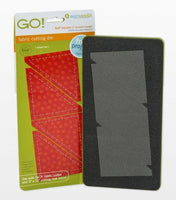 Sale
AccuQuilt #55009 Half Square 3" Finished Triangle
Sale price $35.00 Regular price $54.99
AccuQuilt Block E. Like the perfect pair of black pants, half square shapes are the building blocks of good style.
The GO! Half Square die makes quick work of cutting out 3-inch finished triangles, even with multiple stacks of fabric. Twist and turn these basic quilting units for a variety of block designs, including pinwheels. Add some "pearls" in the shape of square and rectangle dies from our AccuQuilt GO! mix and match system and your quilting fashion expands even further. A designer look in a flash!
Pre-owned. New in package. Cutting mat NOT included.