---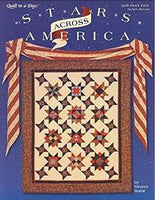 Sale
Stars Across America
Sale price $11.25 Regular price $24.95
A star sampler with a bit of history thrown in! Each star is dedicated to a famous American woman. Twelve different border treatments and three quilt settings make this book a real value.Patterns included: Barbara Frietchie Star, Harriet Tubman Star, Seminole Star, Harriet Beecher Stowe Star, Clara Barton Star, Sojourner Truth Star, Jane Addams Star, Susan B. Anthony Star, Eleanor Roosevelt Star, Frances Willard Star, Marie Webster Star, Carrie Hall Star.
Author: Elenor Burns
Publisher: Quilt in a Day
Publishing Date: 1996
Cover: Paperback
Pages: 120
Condition: Excellent. Minor wear on cover. Pre-owned.