---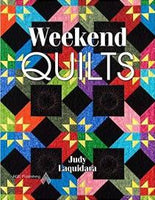 Sale
Weekend Quilts
Sale price $13.00 Regular price $26.95
For those who can't find time to sit down and make a quilt! This is the book for time-challenged quilters. The instructions are written so that after choosing and cutting the fabric for any one of 16 quilts, each step takes about one hour to complete. Beginners will love the step-by-step directions. A bonus for quilters of all skill levels is Judy's fun and interesting way with borders. The projects are lap size or bigger and the tops take just 6 to 18 hours to complete! If you're only able to work on your quilt daily or monthly, Judy's organizing tips will let you pick up right where you left off with ease and get that quilt finished! There are even recipes that require very little time to prepare, but your family will think you've spent hours in the kitchen! Less time cooking, more time quilting!
Author: Judy Laquidara
Publisher: American Quilter's Society
Publishing Date: 2010
Cover: Paperback
Pages: 96
Condition: Like new. Pre-owned.