---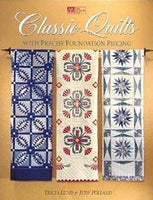 Sale
Classic Quilts
Sale price $9.00 Regular price $19.95
Tackle challenging designs like Pickle Dish, Mariner's Compass, and Double Wedding Ring - and get beautiful, accurate results!
With Judy and Tricia's simple foundation-piecing techniques, you will:
Stitch small shapes, precise points, and bias edges with ease and confidence
Piece designs adapted from traditional applique
Attain a higher level of precision in your patchwork than you ever thought possible
Create 15 traditional quilts in a variety of colors and styles. Complete, illustrated instructions, color photos and traceable paper foundations are provided.
Author: Tricia Lund & Judy Pollard
Publisher: That Patchwork Place
Publishing Date: 1996
Cover: Paperback
Pages: 80
Condition: Excellent. Pre-owned.