---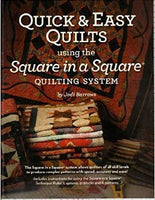 Sale
Quick & Easy Quilts Using the Square in a Square
Sale price $10.50 Regular price $21.95
The Square in a Square system allows quilters of all skill levels to produce complex patterns with speed, accuracy and ease!
This book includes instructions for using the Square in A Square Technique Ruler, 5 options, 21 blocks and 6 patterns.
Author: Jodi Barrows
Publisher: SNS Publishing
Publication Date: 2011
Cover: Paperback
Pages: 34
Condition: Like new. Pre-owned.