---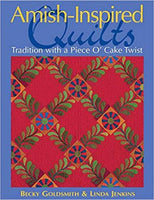 Sale
Amish-Inspired Quilts
Sale price $13.00 Regular price $26.95
Classic quilts touched with Amish charm are featured in this Piece O'Cake book.
Create a special quilt with Amish influences, easy piecing and gorgeous quilting
Dip into your special fabrics! Rich solids and hand-dyes deliver the luminous look you'll want to re-create
Authors: Becky Goldsmith & Linda Jenkins
Publisher: C & T Publishing
Publishing Date: 2006
Cover: Paperback
Pages: 80
Condition: New.