---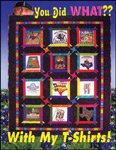 You Did What? With my T-Shirts!
Author: Judy Bobbitt and Katie Reed
Publisher: Pressing Matters Ink
Publication Date: 2004
Cover: Paperback
Pages: 32
Condition: Like-new. Pre-owned.
In an age when every event is commemorated with a t-shirt, it is only fitting that they be cherished and saved for years. What do you do with them when you no longer want to wear them but just cannot throw them away? Well, one way is to make these wonderful pieces of the past into a quilt. Whether you have a few or a bunch, we hope these patterns will inspire you to dig those long forgotten t-shirts from your wardrobe and give them a fitting place in your very own t-shirt quilt.