---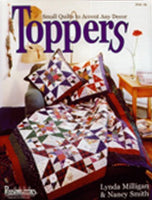 Sale
Toppers: Small Quilts to Accent any Décor
Sale price $11.50 Regular price $22.95
Have you always dreamed of decorating your home with pieced and appliqued quilts but never had the time to make them? Now with Toppers, you can dramatically reduce the time it takes to make a quilt. In fact, since you're only making a quilt that's half the size, it only takes half the time.
Authors: Lynda Milligan & Nancy Smith
Publisher: Possibilities
Publication Date: 1998
Cover: Paperback
Pages: 80
Condition: Like new, pre-owned.