---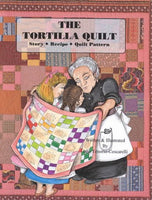 Sale
The Tortilla Quilt
Sale price $5.00 Regular price $9.95
The Tortilla Quilt will open up a bilingual world for readers of all ages. With color illustrations, quilt pattern and a recipe for tortillas, you too can bring a little of Grandma Lupita home with you.
Author: Jane Tenorio-Coscarelli
Publisher: 1/4 Inch Publishing
Publication Date: 1996
Cover: Paperback
Pages: 55
Condition: Like new, pre-owned.