---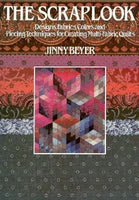 Sale
The Scraplook
Sale price $10.00 Regular price $19.95
Scrap quilts - the very name conjures up the hard times of early America when women sewed bed covers from bits of used or leftover cloth. Many a family memory was preserved in a treasured quilt through scraps from a grandmother's wedding dress, a mother's apron or a father's shirt.
As America's economy improved, so did the choice of fabrics. Women began buying fabric specifically for quilts, then trading pieces with friends. Ultimately, charm quilts (a form of scrap quilt in which not two pieces are alike) came into vogue. Some of these were more than a generation in making - to allow time to collect as many as 1,000 different pieces for one quilt.
The charm of the old, simpler ways of quiltmaking pervades everything Jinny writes in this book. Through color photographs, she shows her own sophisticated designs and reveals as always, in easy-to-follow text, drawings and more photographs, each step she takes to achieve such breathtaking results.
Author: Jinny Beyer
Publisher: EPM Publications, Inc.
Publishing Date: 1985
Cover: Paperback
Pages: 130
Condition: Excellent. Pre-owned.
REMOVED by Cecile Sutter on June 29, 2021. Missing -