---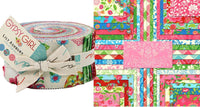 Sale
Moda Gypsy Girl Jelly Roll
Sale price $32.00 Regular price $39.95
Gypsy Girl Jelly Roll by Lily Ashbury for Moda fabrics. This Jelly Roll contains forty 2 1/2″ x 45″ strips of fabric rolled up and tied in a cute ribbon. Fabric is all new, 100% premium Moda cotton. See photos of entire fabric collection. 
Collection Description: Remember when you were young and could spend your afternoon weaving a daisy chain or lying in tall grass dreaming of summer romance! Gypsy Girl is inspired by a longing for carefree summer days. Bright and cheerful colors blend together with a warm and youthful charm. With a modern twist, Gypsy Girl will add youthful vibrance to any project, enjoy!
Pre-owned. 1 available.