---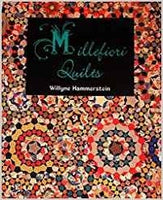 Sale
Millefiori Quilts
Sale price $16.50 Regular price $33.50
Author: Willyne Hammerstein
Publisher: Quiltmania, KHL Printing Co. Pte. Ltd.
Publication Date: 2011
Cover: Paperback
Pages: 184
Condition: Like new. Pre-owned.
Written in English and French, this book has a wonderful assortment of projects and ideas. 183 full color pages with 19 quilts. All the quilts in this book can be ADAPTED to work with Paper Pieces. These quilts look AWESOME made with all fabrics, but especially with modern quilting fabric. Check out the hashtag #lapassacaglia on instagram for ideas.