---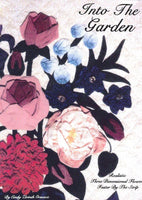 Sale
Into the Garden
Sale price $11.50 Regular price $22.95
The three-dimensional flowers in this book are not like the flowers found on traditional Album Quilts. The flowers on the album quilts from the mid-19th century are "stylized," which means the designs represent typical patterns from that time and not necessarily the way flowers actually look. This book will show you how to create flower-based album quilts in the same fine tradition of expert needle skill with imaginative use of high quality fabric and fibers. But rather than stylized flowers, you'll make 3-dimensional flowers that are so realistic and beautiful they stand apart. These techniques are different also because the make creating an Album Quilt faster. The ornate Album Quilts of the 1840's and 1850's were created in a time different from our lives today. A single block could take 40-60 hours of cutting and sewing. The patterns in this book are designed to save time. They will never be rotary cut, but they can be done with significant time savings, making the process more pleasurable. Each cut is made intentionally imperfect, like a flower in nature - an irregularity which brings reality.
Author: Cindy Zlotnik Oravecz

Publisher: Quilters Fancy
Publishing Date: 1995, First Edition First Printing
Cover: Paperback
Pages: 128
Condition: Excellent. Pre-owned. Some wear along the spine.