---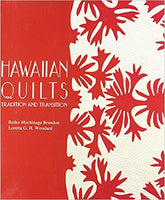 Sale
Hawaiian Quilts
Sale price $12.50 Regular price $24.99
Hawaiian quilts are recognized the world over for their bright colors and bold graphic designs, reflecting the lush subtropical flora of the islands where they were born. This bilingual publication originally accompanied a touring exhibition in Japan. It features 24 valuable historical quilts selected from 3 Hawaii museums and 30 quilts created by contemporary quilters.
Authors: Reiko Mochinaga Brandon and Loretta G. H. Woodard
Publisher: University of Hawaii Press
Publication Date: 2004
Cover: Paperback
Pages: 140
Condition: Like new. Pre-owned.