---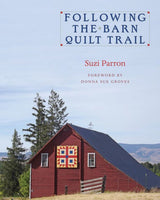 Sale
Following the Barn Quilt Trail
Sale price $15.00 Regular price $29.95
Suzi Parron, in cooperation with Donna Sue Groves, documented the massive public art project known as the barn quilt trail in her 2012 book Barn Quilts and the American Quilt Trail Movement. The first of these projects began in 2001, when Groves and community members created a series of twenty painted quilt squares in Adams County, Ohio. Since then, barn quilts have spread throughout forty-eight states and several Canadian provinces.
In Following the Barn Quilt Trail, Parron brings readers along as she, her new love, Glen, their dog Gracie, and their converted bus Ruby, leave the stationary life behind. Suzi and Glen follow the barn quilt trail through thirty states across thirteen thousand miles as Suzi collects the stories behind the brightly painted squares. With plentiful color photographs, this endearing hybrid of memoir and travelogue is for quilt lovers, Americana and folk art enthusiasts, or anyone up for a good story.
Author: Suzi Paron
Publisher: Swallow Press
Publication Date: 2016
Cover: Paperback
Pages: 278
Condition: Like-new. Pre-owned.