---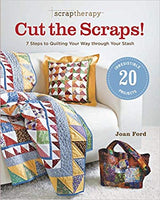 Sale
Cut the Scraps!
Sale price $12.50 Regular price $24.95
Ever feel like your fabric stash is taking over? Like you'll never find a way to get it all organized so you can make the beautiful quilts you've dreamed about?
Enter Joan Ford, quilt designer and clutter-cleaner supreme who not only feels your pain but has just the rogram you need to get back to quilting. ScrapTherapy (tm) is a tried-and-true method for organizing your fabric and turning it into gorgeous quilts and accessories, including tote bags, pillows, table runners and more.
Author: Joan Ford
Publisher: The Taunton Press
Publishing Date: 2011
Cover: Paperback
Pages: 202
Condition: Like-new. Pre-owned.