---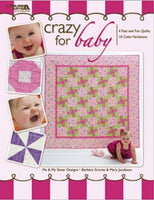 Sale
Crazy for Baby
Sale price $5.50 Regular price $10.95
Of course you're crazy about that precious baby! That's why you'll want to make these four color-charged quilts in all the zippy hues of the neon rainbow. The use of a large, single-fabric panel in the center of three quilts, as well as simple pieced blocks, will make your work go very quickly indeed. If you piece and quilt on your sewing machine, you could even finish a blanket in a weekend -- leaving more time to play with Baby!

4 fast and fun quilts in 10 color variations: Dizzy (pink/green or green/yellow/orange); Crazy for Baby (orange/white or blue/green/purple); Play Pen (blue/green/orange or yellow/green/orange or pink/blue); Teething Rings (turquoise/bright pastels or pink/yellow or blue/green).
Authors: Barbara Groves & Mary Jacobson, Me & My Sister Designs
Publisher: Leisure Arts
Publishing Date: 2006
Cover: Paperback
Pages: 40
Condition: Like-new. Pre-owned.