---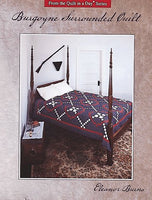 Sale
Burgoyne Surrounded Quilt
Sale price $6.50 Regular price $12.95
The quilt pattern depicts an actual battle from the American Revolution. The chains of small red squares represent regiments of Redcoats from the British armies of Burgoyne, marching from Canada, and General Howe, marching from New York. The circle in blue represents militiamen from New England, surrounding Burgoyne in Saratoga, New York, represented by the large red center.
Author: Eleanor Burns
Publisher: Quilt in a Day
Publishing Date: 1992
Cover: Paperback
Pages: 64
Condition: Like new. Pre-owned.