---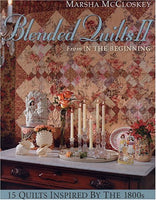 Sale
Blended Quilts II
Sale price $15.00 Regular price $29.95
Blended Quilts II Marsha and a talented group of quilters once again demostrate that gorgeous fabrics and easy piecing techniques are all that's needed to make lovely Blended Quilts.
15 quilts patterns designed for quick and easy piecing
Two full-color photographs of each project quilt, including a flat shot of the entire quilt and a decorator shot showing the quilt in a beautiful setting
Easy to follow instructions appropriate for beginning to exprerienced quiltmakers
Color illustrations to aid in construction of each quilt
Fabric selection is made simple with color photos of appropriate prints, accompanied by Marsha's expert tips
Photos show examples of contrast in quilt blocks and examples of "blended" fabric transitions
Quilts are divided into three sections: Repeated Block, Stippy and Medallion
The Basic Quiltmaking section provides a complete overview of quilting steps, from rotary cutting to binding
Author: Marsh McCloskey
Publisher: In the Beginning
Publication Date: 2004
Cover: Paperback
Pages: 132
Condition: Excellent, like new. Previously owned.