---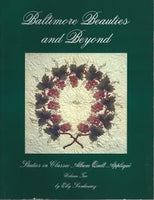 Baltimore Beauties and Beyond: Studies in Classic Album Quilt Applique Volume Two
RARE Out of Print - Insightful and abundantly illustrated, this volume probes both the design secrets and the origins of the classic Baltimore-style Album quilt. A gallery of 50 full quilts inspires lessons on picture blocks, Victorian inkwork, and sets and borders. Forty-five color plates and numerous design resources spin out the Album Quilt saga. The author's infectious enthusiasm, her impressive, well-researched familiarity with the genre, plus 33 patterns, invite the reader "beyond" Baltimore. Here scholarship, artistry and entertaining text embrace a glorious quilt tradition for all of us to share and to make our own.
Author: Elly Sienkiewicz

Publisher: C & T Publishing
Publishing Date: 1991, First Edition First Printing
Cover: Paperback
Pages: 176
Condition: Excellent. Pre-owned. Some wear along the spine and edges.