---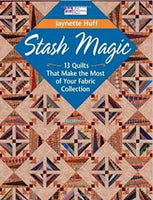 Sale
Stash Magic
Sale price $13.00 Regular price $26.99
With guidance from Jaynette Huff, quilters of all levels can now take ordinary scrap quilts to a new level of design. Jaynette uses a variety of techniques--including paper foundation piecing, string piecing, and appliqué--in these 13 projects. Now you can put all those narrow and odd-shaped fabric bits and strips and strings to use!
Author: Jaynette Huff
Publisher: That Patchwork Place
Publishing Date: 2009
Cover: Paperback
Pages: 96
Condition: Excellent. Pre-owned.