---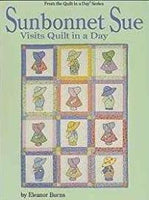 Sale
Sunbonnet Sue Visits Quilt in a Day
Sale price $5.50 Regular price $10.95
The universal appeal of children busy at work and at play was captured by the illustrator Kate Greenaway at the turn of the century. Her designs in books and magazines brought these fanciful children into homes around the country. It was another artist, Bertha Corbett, who christened them with the name Sunbonnet, and declared that it wasn't necessary to show the face when displaying emotions. She illustrated the book, Sunbonnet Babies, which became the basis for the idea that quiltmakers now recognize.
Author: Eleanor Burns
Publisher: Quilt in a Day, Inc.
Publishing Date: 1992
Cover: Paperback
Pages: 48
Condition: Like-new. Pre-owned.